The year 2021 will mark the 100th anniversary of the founding of the Communist Party of China (CPC), the first year of the 14th Five-Year Plan, and the first year of consolidating and expanding the achievements of poverty alleviation and rural revitalization.
Over the years, in Dongyuan county, under the support of county party committee and county people's government departments at all levels are widely mobilize, elaborate organization, Ming laser laser intelligent equipment (heyuan) co., LTD., as the dongyuan county the compassion enterprise, actively participate in international activities, caring organizations donations will donate service, collect good Chicago, has made due contributions. Poverty alleviation activities have become an important platform for carrying forward the traditional virtue of philanthropy and building a happy and beautiful Dongyuan County.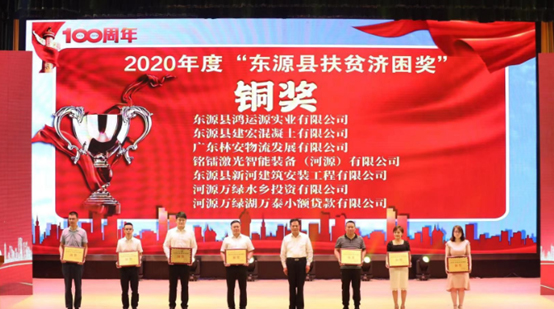 The activity announced the enterprises that won the "Dongyuan County Poverty Alleviation Award in 2020" and praised them in a circular. With outstanding contributions in the cause of poverty alleviation, Minglei Laser Intelligent Equipment (Heyuan) Co., Ltd. has been awarded the award of poverty alleviation in Dongyuan County for many consecutive years.
On the day of the event, Minglei Laser Intelligent Equipment (Heyuan) Co., Ltd. donated 100,000 yuan, won the 2020 annual "Dongyuan County Poverty Alleviation Award" bronze award, help local rural revitalization.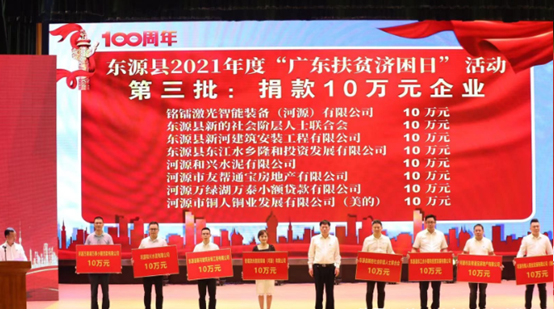 Poverty alleviation and rural revitalization have become a new starting point for enterprises to fulfill their social responsibility. Minglei Laser Intelligent Equipment (Heyuan) Co., Ltd. is well aware of the strategic significance of rural revitalization for national rejuvenation. Ming Lei Laser will adhere to the integration of party building and social responsibility, to the industry is committed to people's livelihood, practice social responsibility, help poverty alleviation.
Poverty alleviation is not a one-time goal, and "helping the poor" will never go out of fashion. Standing in the historical convergence period of the "two centenary goals", "poverty alleviation" will certainly become a cultural leading force, standing at the forefront of reform and opening up in the new era!